Surgical Planning and Procedures
Ridge Preservation Techniques
Following tooth extraction, bone remodeling occurs including bone formation and resorption. The latter results in external changes in the alveolar ridge, which in turn impacts on the bone dimensions available for implant placement. Ridge preservation techniques are used at the time of extraction to minimize postextraction volume changes.
In this Learning Pathway, decision-making criteria for ridge preservation techniques will be discussed according to ITI Consensus Conference proceedings together with subsequent timing of implant placement. This Learning Pathway includes Learning Modules on minimally traumatic tooth extraction and socket healing as well as Lectures and Clinical Cases that demonstrate and discuss different ridge preservation techniques together with the scientific evidence underpinning them.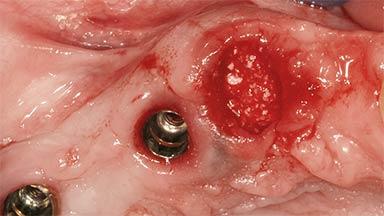 On completion of this Learning Pathway you should be able to:
describe the benefits of ridge preservation for obtaining long-term bone stability of alveolar process
describe maintenance of the bone volume in extraction sites when biomaterials are used
define the effects of various ridge preservation grafting materials and techniques to minimize volume changes
identify the decision-making criteria for performing ridge preservation following an extraction
Anatomy & Biological Principles

Biomaterials

Bone Augmentation

Bone Formation

Bone Grafting

Bone Management

Bone Remodeling

Components & Materials

English

Languages

Pathway

Placement Protocols

Ridge Preservation

Surgery

Surgical Planning & Procedures

Tooth Extraction
Share this page
Download the QR code with a link to this page and use it in your presentations or share it on social media.
Download QR code