Structured Assessment and Treatment Planning
Radiographic Assessment
In implant dentistry, diagnostic imaging serves two main purposes: to establish a diagnosis and to aid in surgical treatment planning. This Learning Pathway provides an overview of the role of diagnostic radiography as well as the imaging options for implant site assessment and treatment planning. The potential for image artefactsartifacts, and how to avoid misinterpretation of these, is also discussed.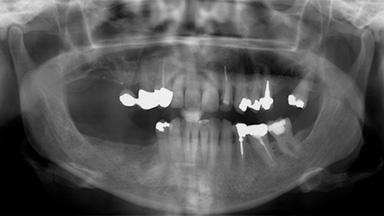 On completion of this Learning Pathway you should be able to...
explain the purpose of diagnostic imaging in implant dentistry
list the available imaging modalities
discuss radiation protection principles to reduce levels of dose-associated risk
describe the benefits and limitations of both 2D and 3D imaging techniques
describe the methods that can be employed to minimise the risk of misinterpretation of radiographic images
Assessment & Diagnosis

Diagnostic Tools

English

Interpreting Diagnostic Data

Languages

Pathway

Radiography

Risk Assessment

Site Risk Assessment

Structured Assessment & Treatment Planning

Treatment Planning
Share this page
Download the QR code with a link to this page and use it in your presentations or share it on social media.
Download QR code