Surgical Planning and Procedures
Principles for Simultaneous Bone Augmentation at Dental Implants
Once a tooth is extracted, the alveolar ridge begins to resorb. Over time, the resorption can cause significant loss of bone volume, which may impact upon the subsequent placement of a dental implant. Bone augmentation procedures are used to increase the volume of bone to ensure that implants are properly supported in the bone with no exposure of the endosseous surface. This Learning Pathway will review the biological principles involved and will outline the criteria for simultaneous implant placement and bone augmentation.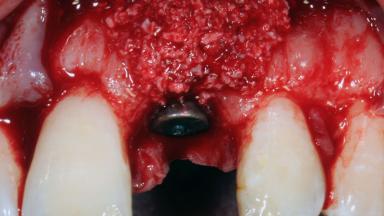 On completion of this Learning Pathway you should be able to:
describe the biology of bone relevant to bone augmentation procedures
classify bone grafts and substitutes for bone augmentation
outline the case selection criteria for simultaneous bone augmentation and implant placement
English

Languages

Pathway

Surgical Planning & Procedures
Share this page
Download the QR code with a link to this page and use it in your presentations or share it on social media.
Download QR code