Prosthodontic Planning and Procedures
Partial Removable Dental Prostheses
Strategic use of implants in combination with partial removable dental prostheses or partial RDPs is gaining recognition as a simple, economical, but very effective means of enhancing denture performance and increasing patient satisfaction. This is particularly the case with partial RDPs in Kennedy Classifications I, II, and IV of partial edentulism where one or more of the strategic natural tooth abutments are missing. This Learning Pathway will explore this use of implants through a Learning Module, a Lecture, and a Clinical Case example.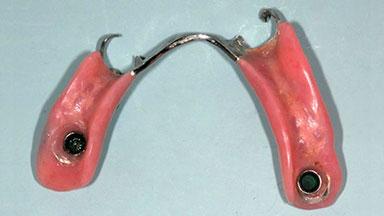 On completion of this Learning Pathway you should be able to...
describe indications for use of single unsplinted implants in combination with partial RDPs
identify strategic placement positions for implants in Kennedy Class I, II, and IV partial RDP designs
discuss supportive elements and superstructure options for single unsplinted implants using retentive stud attachments and functional single crowns
Abutment Selection

Abutments

Attachment Types

Case Type

Components & Materials

English

Extended Space

Hybrid Dentures

Individual Retentive Elements

Languages

Mechanical Retention

Partial RDP

Pathway

Prosthesis Design

Prosthodontic Planning & Procedures

Prosthodontics

RDP
Share this page
Download the QR code with a link to this page and use it in your presentations or share it on social media.
Download QR code