Treatment outcomes and Continuing Care
Managing Hardware Complications
There is clear evidence that prosthodontic complications occur at a higher rate with dental implants than with natural teeth. Commonly referred to as 'hardware complications,' it is important to understand why they occur and how best to deal with them. This Learning Pathway will discuss implant hardware complications associated with fixed dental prostheses as a basis for elucidating their various causes, best prevention, and management. The Learning Pathway comprises a Learning Module, three Lectures, Consensus Statements and Clinical Case examples.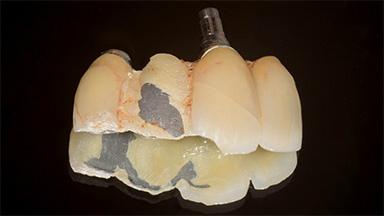 On completion of this Learning Pathway you should be able to...
define hardware complications
recognize causes of hardware complications
outline approaches for the prevention of hardware complications
describe management of the most common hardware complications
Abutment Loosening

Abutment/Framework Fracture

Abutments

Complications

Components & Materials

English

Implant Fracture

Implants

Languages

Mechanical/Technical Complications

Outcomes

Pathway

Prosthesis Materials

Screw Fracture

Screw Loosening

Treatment Outcomes & Continuing Care

Veneer Fracture

Wear
Share this page
Download the QR code with a link to this page and use it in your presentations or share it on social media.
Download QR code