Surgical Planning and Procedures
Implant Osteotomies
The implant osteotomy or fixture site preparation is a key surgical step in implant dentistry. This Learning Pathway describes correct bone preparation technique for implant placement based on a prosthodontic plan. It highlights potential risks associated with inappropriate osteotomy techniques and discusses adjustments of preparation technique dictated by variation in bone densities.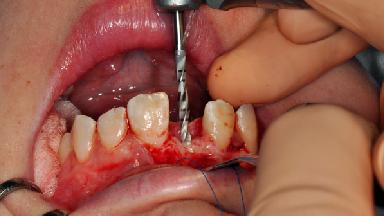 On completion of this Learning Pathway you should be able to...
define the sequence, speed and drilling technique and recognize its relationship to primary implant stability and osseointegration

select the appropriate drilling procedure for a given type of bone

list the effects of inadequate drilling technique and instrumentation on primary implant stability and osseointegration

recognise the value of surgical templates in prosthodontically driven implant placement
Anatomy & Biological Principles

Bone Quality

English

Languages

Osseous Structures

Osteotomy Procedure

Pathway

Surgery

Surgical Planning & Procedures
Share this page
Download the QR code with a link to this page and use it in your presentations or share it on social media.
Download QR code