Prosthodontic Planning and Procedures
Implant Configurations for Fixed Dental Prostheses
Subject to the clinical situation different design configurations may be possible for implant-supported prostheses. The treatment plan must be prosthodontically driven and the prosthesis design based on the clinical conditions to ensure that the appropriate number of implants are placed in the correct prosthetic positions using implants with appropriate dimensions.
Each prosthesis design has its advantages and disadvantages. In this Learning Pathway the principles for implant configurations for single-tooth spaces, short and extended spaces and completely edentulous arches are set out in a dedicated Learning Module. The clinical application of the configuration principles are then demonstrated in the Clinical Case examples and discussed in three Congress Lectures.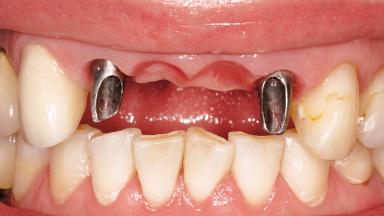 After completing this Learning Pathway you should be able to...
describe the implant configurations for fixed dental prostheses in single tooth spaces, in short and extended edentulous spaces and in edentulous jaws
discuss the clinical considerations and design principles that govern the application of the configuration principles in patient cases
Anterior FDP

Case Type

Edentulous Mandible

Edentulous Maxilla

English

Extended Space

FDP

Full-Arch FDP

Languages

Pathway

Posterior FDP

Prosthesis Design

Prosthodontic Planning & Procedures

Prosthodontics

Short Space

Single-Tooth Space
Share this page
Download the QR code with a link to this page and use it in your presentations or share it on social media.
Download QR code