Treatment outcomes and Continuing Care
Implant and Prosthesis Survival and Success
The replacement of missing teeth by means of endosseous implants is a proven treatment modality for both completely and partially edentulous patients. This Learning Pathway examines implant and prosthesis survival and success and highlights risk factors that may affect treatment outcomes.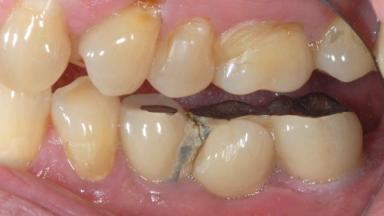 On completion of this Learning Pathway you should be able to...
define implant/prostheses survival and success

identify different types of complications that may affect the outcome of implant therapy

identify risk factors for these complications

describe the survival and success outcomes for implant-supported single crowns and fixed dental multi-unit prostheses
Abutment Loosening

Abutment/Framework Fracture

Assessment & Diagnosis

Biological Complications

Complications

English

Esthetic Complications

Esthetic Outcome

Implant Fracture

Languages

Mechanical/Technical Complications

Mucositis

Outcomes

Pathway

Peri-Implantitis

Risk Assessment

Risk Factors

Screw Fracture

Screw Loosening

Success and Survival

Treatment Outcomes & Continuing Care

Veneer Fracture

Wear
Share this page
Download the QR code with a link to this page and use it in your presentations or share it on social media.
Download QR code