Prosthodontic Planning and Procedures
Fixed vs. Removable Prosthodontics for Restoring the Edentulous Maxilla
Fixed and removable prosthodontic implant therapy for restoration of the edentulous maxilla is both complex and challenging. Careful assessment and planning is needed in each individual case to explore whether a fixed or a removable solution will be the more suitable to satisfy the patient's preference for optimal esthetics, phonetics, comfort and function. This Learning Pathway explores the prosthodontically driven treatment planning based on structured assessment, considered diagnosis and practical application in clinical case examples.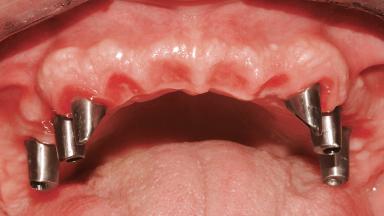 On completion of this Learning Pathway you should be able to...
identify decisive factors based on structured assessment and treatment planning
recognize the importance of a prosthodontically driven plan and of planning implant configurations and placement accordingly
describe the role of additional investigation by 3D reformatted scans in assisting treatment planning
Attachment Types

Case Type

Cement Retention

Edentulous Maxilla

English

Languages

Loading Protocols

Mechanical Retention

Pathway

Prosthesis Design

Prosthodontic Planning & Procedures

Prosthodontically Driven Planning

Prosthodontics

Screw Retention

Treatment Planning
Share this page
Download the QR code with a link to this page and use it in your presentations or share it on social media.
Download QR code