Structured Assessment and Treatment Planning
Esthetic Risk Assessment
Patients who seek to replace their missing or failing teeth with dental implant-supported prostheses will be looking for an esthetic as well as a functional outcome. This is particularly so when the treatment site is visible when smiling. Clinical situations differ from one another, and there are a number of specific variables that may compromise the chances of achieving a predictable esthetic result. The value and importance of developing an esthetic risk profile from the outset is now universally recognized. This Learning Pathway sets out the ITI approach to systematic and comprehensive esthetic risk assessment.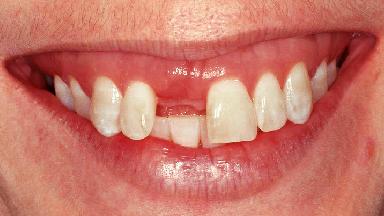 On completion of this Learning Pathway you should be able to...
list esthetic risk factors and describe their relevance to implant dentistry
evaluate the patient's esthetic desires/expectations
apply the Esthetic Risk Assessment (ERA) to generate an esthetic risk profile for a patient
identify patients who carry a high risk of a negative esthetic outcome
Assessment & Diagnosis

English

Esthetic Outcome

Esthetic Risk Assessment

Esthetics

High Esthetic Risk

Languages

Low Esthetic Risk

Outcomes

Pathway

Prosthodontics

Risk Assessment

Risk Factors

Site Risk Assessment

Structured Assessment & Treatment Planning

Treatment Planning
Share this page
Download the QR code with a link to this page and use it in your presentations or share it on social media.
Download QR code