Prosthodontic Planning and Procedures
Esthetic Planning for RDPs
In addition to the benefits offered to removable dental prostheses (RDPs) by implant support and retention, the esthetic outcome is also an important component in restoring the patient's autonomy and quality of life. With the aim of enhancing the esthetic outcome, this Learning Pathway is lead by a lecture that addresses the esthetic planning principles for RDPs by dividing these into facial, tooth, and soft tissue components. The lecture also discusses principles of lip support and tooth arrangement and the realistic effect of incorporating both perfection and imperfection into the prosthesis.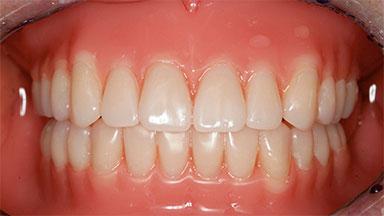 On completion of this Learning Pathway you should be able to:
explain the importance of esthetics for removable dental prostheses
identify the parameters in esthetic rehabilitation with removable dental prostheses
describe the principles of smile design including tooth selection and arrangement
Assessment & Diagnosis

Clinical Examination

English

Esthetics

Languages

Pathway

Prosthesis Design

Prosthodontic Planning & Procedures

Prosthodontics

RDP

Treatment Planning
Share this page
Download the QR code with a link to this page and use it in your presentations or share it on social media.
Download QR code