Prosthodontic Planning and Procedures
Esthetic Planning for FDPs
With the increasing attention to the esthetic aspects of implant prostheses, the importance of careful, systematic esthetic planning from the outset of treatment has increased in turn. With the aim of achieving optimal esthetics, this Learning Pathway examines the factors that should be considered at the level of the patient's face, the future implant prostheses, and peri-implant tissues. The Learning Pathway also relates esthetic planning to esthetic risk assessment. The Learning Pathway is led by two Learning Modules and supported by a two Congress Lectures, three ITI Consensus Statements, and five clinical case examples.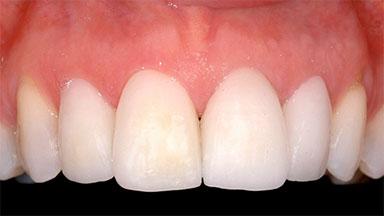 On completion of this Learning Pathway you should be able to:
define esthetics in relation to implant-supported FDPs
describe esthetic planning factors at the level of the face and perioral area, planned prosthesis, and prospective peri-implant tissues
relate esthetic planning to esthetic risk assessment
discuss esthetic planning in different clinical case examples
Anatomy & Biological Principles

Assessment & Diagnosis

Clinical Examination

English

Esthetic Risk Assessment

Esthetics

FDP

Languages

Pathway

Peri-Implant Mucosa

Prosthesis Design

Prosthodontic Planning & Procedures

Prosthodontically Driven Planning

Prosthodontics

Risk Assessment

Treatment Planning
Share this page
Download the QR code with a link to this page and use it in your presentations or share it on social media.
Download QR code