Treatment Outcomes and Continuing Care
Esthetic Outcome Assessment
In step with wider use of implant therapy, the demands on the esthetic outcome have also grown. This Learning Pathway sets out the basis for assessment and discussion of these outcomes with patients. The aim is to assist the clinician in recognizing esthetic compromise and complications as well as optimal outcomes. The Learning Pathway therefore comprises a Learning Module, four Lectures, two Consensus Statements and a range of Clinical Case examples to illustrate optimal outcomes, esthetic compromise, and esthetic complications.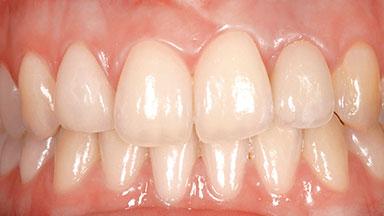 On completion of this Learning Pathway you should be able to…
define implant esthetics
assess esthetic outcomes
identify cases of esthetic compromise
recognize esthetic complications
Anatomy & Biological Principles

Assessment & Diagnosis

Complications

English

Esthetic Complications

Esthetic Outcome

Esthetic Risk Assessment

Esthetics

Languages

Outcomes

PES/WES

Pathway

Peri-Implant Mucosa

Prosthesis Design

Prosthodontics

Risk Assessment

Site Risk Assessment

Treatment Outcomes & Continuing Care
Share this page
Download the QR code with a link to this page and use it in your presentations or share it on social media.
Download QR code