Introduction to Implant Dentistry
Early Implant Placement
The clinician is in a unique position to be able to prescribe the time for implant placement following tooth extraction in order to maximize the advantages and to achieve successful long-term outcomes. This Learning Pathway explores early implant placement with soft tissue healing and/or partial bone healing (Type 2 and Type 3 placements according to the ITI classification of placement protocols).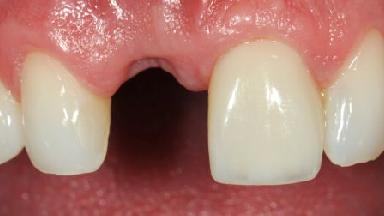 On completion of this Learning Pathway you should be able to...
define Type 2 and Type 3 early implant placement time points
list advantages and disadvantages of both time points
describe the advantages of minimally traumatic extraction techniques
employ the Esthetic Risk Assessment when creating a patient's risk profile
recognize guided bone regenerations (GBR) techniques used in conjunction with Type 2 and Type 3 implant placements
Anatomy & Biological Principles

Assessment & Diagnosis

Bone Formation

Bone Management

Bone Remodeling

Complications

Early Placement with Bone Healing

Early Placement with Soft Tissue Healing

English

Esthetic Complications

Esthetic Risk Assessment

Introduction to Implant Dentistry

Languages

Outcomes

Pathway

Placement Protocols

Ridge Preservation

Risk Assessment

Risk Factors

SAC Classification

Site Risk Assessment

Surgery

Tooth Extraction

Wound Healing
Share this page
Download the QR code with a link to this page and use it in your presentations or share it on social media.
Download QR code