Prosthodontic Planning and Procedures
Design Principles for Implant-Supported Provisional Prostheses
Provisional prostheses play an important role in testing prosthodontic parameters prior to construction of the definitive prostheses. These include soft tissue shaping for an optimal emergence profile and testing of the occlusal scheme. This Learning Pathway sets out an overview of the indications, materials, and techniques for fabrication and utilization of an implant-supported provisional prosthesis through a Learning Module supported by Congress Lectures, Clinical Cases, and Consensus Statements.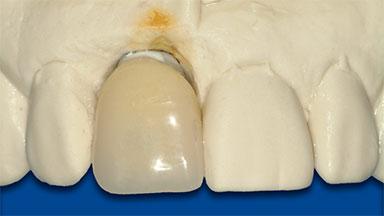 On completion of this Learning Pathway you should be able to...
identify the indications for implant-supported provisional prostheses
explain their importance for achieving optimal esthetic outcomes
select the appropriate type of provisional prosthesis
specify which materials are needed to fabricate the prosthesis
list the various techniques to fabricate the prosthesis
Anatomy & Biological Principles

Components & Materials

English

Languages

Pathway

Prosthesis Design

Prosthesis Materials

Prosthodontic Planning & Procedures

Prosthodontics

Provisional Prostheses
Share this page
Download the QR code with a link to this page and use it in your presentations or share it on social media.
Download QR code