Prosthodontic Planning and Procedures
Design Principles for FDPs
There are a number of aspects that are common to the design of most implant fixed dental prostheses (or FDPs). These include selection of the type and configuration of the FDP, selection of the retention method, and consideration of the external aspects and internal structure required to address factors such as esthetics, function, and strength. This Learning Pathway will examine each of these design points via a Learning Module. In addition ITI Consensus Statements on methods of retention and clinical examples of different prosthetic designs in a number of indications offers further clinical relevance.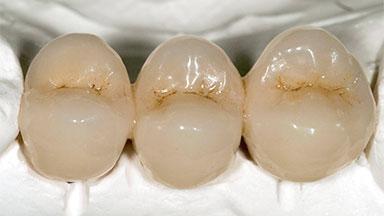 On completion of this Learning Pathway you should be able to...
describe the principles for designing FDPs in terms of selection of prosthesis type, configuration, and retention method
describe the principles for designing external aspects and internal structure
cite the literature on clinical performance of screw- versus cement-retained prostheses
describe hygienic considerations of FDPs
discuss clinical examples of FDP design
Anatomy & Biological Principles

Assessment & Diagnosis

Attachment Types

Biomechanics

Cement Retention

Components & Materials

English

Esthetics

FDP

Languages

Oral Hygiene

Pathway

Patient Factors & Compliance

Prosthesis Design

Prosthesis Materials

Prosthodontic Planning & Procedures

Prosthodontically Driven Planning

Prosthodontics

Screw Retention

Treatment Planning
Share this page
Download the QR code with a link to this page and use it in your presentations or share it on social media.
Download QR code