Patient Assessment, Diagnosis and Treatment Planning
Clinical Examination
A thorough clinical examination is an essential part of patient assessment for dental treatment in general as well as for implant therapy. This Learning Pathway looks at systematic examination by dividing it into the three levels: extraoral, intraoral, and treatment site-specific. In addition to three dedicated Learning Modules, the Learning Pathway offers examples of relevant clinical examination findings in three patient cases.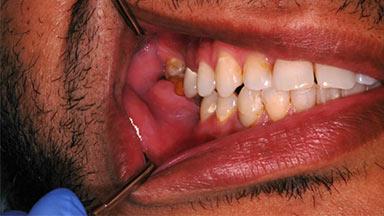 On completion of this Learning Pathway you should be able to:
describe a comprehensive extraoral examination
describe a comprehensive intraoral examination
describe a comprehensive treatment site-specific examination
identify findings for clinical examination with relevance to implant therapy
Anamnesis

Assessment & Diagnosis

Clinical Examination

Communication

English

General Topics

Languages

Pathway

Patient Factors & Compliance

Risk Assessment

Structured Assessment & Treatment Planning

Treatment Planning

Treatment Proposal
Share this page
Download the QR code with a link to this page and use it in your presentations or share it on social media.
Download QR code