Prosthodontic Planning and Procedures
Ceramic Materials
As implant dentistry has evolved, the esthetic outcome of implant therapy has gained increasing importance. As a result, both patients and those in the dental profession have become increasingly interested in the attractive esthetic characteristics of all-ceramic prostheses. Extensive research is being devoted to developing, testing, and reviewing the characteristics and performance of ceramic materials in connection with implant therapy. Nevertheless, each patient is unique, and it is important to ensure that the appropriate prosthodontic material is selected for each case. This step often requires a team approach in which both the prosthodontic dentist and the dental technician are involved. This learning pathway will discuss the different parameters that should influence the decision-making process for selection and use of ceramic materials in implant prostheses.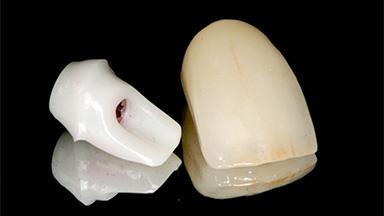 On completion of this Learning Pathway you should be able to…
assess dental ceramics against material selection criteria for implant fixed dental prostheses or FDPs
discuss ceramic materials according to their technical aspects
describe prosthodontic indications for ceramic materials in implant prostheses and abutments
All-Ceramic

Components & Materials

Dental Laboratory

English

Esthetics

FDP

Languages

Pathway

Prosthesis Design

Prosthesis Materials

Prosthodontic Planning & Procedures

Prosthodontics
Share this page
Download the QR code with a link to this page and use it in your presentations or share it on social media.
Download QR code