Prosthodontic Planning and Procedures
Attachment Selection for Complete RDPs
There are a number of attachment types available for complete removable overdentures. Selection depends on a number of patient- and prosthesis-related factors as well as clinical requirements. This Learning Pathway will explore attachment selection based on these factors and requirements through a Learning Module supported by one Consensus Statement and five Clinical Cases.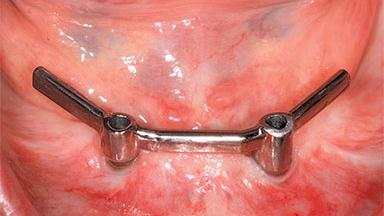 On completion of this Learning Pathway you should be able to...
define implant overdenture attachment
outline mechanical features and clinical requirements to design of these attachments
explain significance of implant/tissue-supported versus implant-retained in relation to attachment selection
describe the most commonly used generic types of attachments
list indications, advantages, and disadvantages for each type
Abutment Selection

Abutments

Attachment Types

Components & Materials

English

Full-Arch RDP

Hybrid Dentures

Individual Retentive Elements

Languages

Mechanical Retention

Pathway

Prosthesis Design

Prosthodontic Planning & Procedures

Prosthodontics

RDP

Retentive Bar
Share this page
Download the QR code with a link to this page and use it in your presentations or share it on social media.
Download QR code