Clinical Case Report
Replacement of an Upper Right Central Incisor with a Regular Neck Implant, Restored with an All-Ceramic Crown, Transocclusally Screw-Retained
This 37-year-old female patient, a non-smoker, complained about discomfort and gingival problems at tooth 11. She was in good general health, and her medical history was without significant findings. The clinical inspection of the oral cavity revealed a fistula originating at tooth 11. Radiological examination of the crowned tooth 11 re- vealed a root-canal filling, status after apicoectomy, and a large periapical bone defect, as well as secondary caries. The adjacent teeth, 21 and 12,were periodontally healthy. They had interdental composite fillings that the patient wanted replaced. The bone crest levels of teeth 12 and 21 well maintained, providing potential soft-tissue support.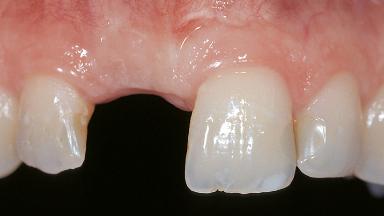 Surgical SAC classification

Complex

Prosthodontic SAC classification

Advanced
Source

Treatment Guide 1

Purchase price

10 Academy Coins

CPD/CME

0.15 hours
Share this page
Download the QR code with a link to this page and use it in your presentations or share it on social media.
Download QR code