Clinical Case Report
Replacement of a Fractured Upper Left Central Incisor: Delayed Placement of a Bone Level Tapered Implant Using a Staged Approach
A 32-year-old male patient was referred to our specialty practice by his general dentist for evaluation and replacement of his failing maxillary left central incisor (tooth 21). This patient presented for care with no significant medical conditions, no known drug allergies, and was not taking any prescription medications. He mentioned the occasional use of over the counter, non-steroidal anti-inflammatories for occasional muscle aches attributed to sporting activities. He did report a history of mild asthma as a child, but no recent episodes of bronchospasm or shortness of breath in the last ten years. He complained of mild discomfort and swelling of the gingival tissue above his front tooth that began approximately 6 weeks prior.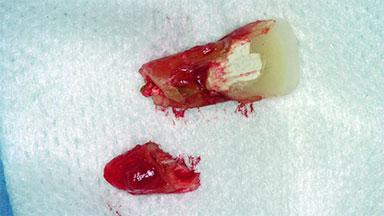 Surgical SAC classification

Complex

Prosthodontic SAC classification

Advanced
Source

Treatment Guide 10

Purchase price

10 Academy Coins

CPD/CME

0.15 hours
Share this page
Download the QR code with a link to this page and use it in your presentations or share it on social media.
Download QR code