Prosthodontic Planning and Procedures
Protocol for Fixed Implant Supported Prostheses Delivery
When implants have been placed and are restored with the final prostheses, certain principles have to be followed to achieve a good fit and long-term success of the prosthesis.
The general principles for delivering an implant-supported prosthesis are very similar to those for delivering a tooth-supported prosthesis.
However, the complexity is higher when using implant-supported prostheses since they can have multiple components that fit together very precisely along limited paths of insertion.
In addition, these prostheses need to be delivered onto rigidly fixed implants. All these factors make this a much more exacting procedure.
It is therefore important to have a protocol to ensure the correct steps are followed so as to minimize the risk of complications and to be able to verify that the procedure has been carried out correctly.
It is also important to be able to provide base line information about the prosthesis against which you can compare the condition of prosthesis over time.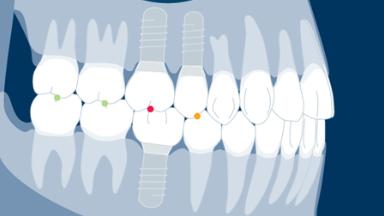 After completing this ITI Academy Module, you should be able to…
list the step by step protocol for delivering an implant-supported restoration
describe how to evaluate a restoration and rehearse its assembly
describe the steps of trying-in and verifying that a restoration is clinically acceptable
describe the clinical techniques for fitting both screw- and cement-retained restorations
indicate appropriate oral hygiene advice and techniques for implant restorations as well as list the baseline documentation that needs to be recorded for continuing care
Editor

Duration

27 min. + 10 min. for the Assessment

CPD/CME

0.6 hours

Purchase price

39 Academy Coins

Related assessment

Subtitles

Japanese

Turkish

English

German
Share this page
Download the QR code with a link to this page and use it in your presentations or share it on social media.
Download QR code