Surgical Planning and Procedures
Principles of Guided Bone Regeneration (GBR)
When a tooth is extracted, the alveolar bone that supports the tooth resorbs over time. This resorption results in a reduction in alveolar bone volume, as shown in this clinical example of a missing upper right central incisor. The bone has diminished significantly in orofacial width, and this is in conflict with the fundamental requirement in implant dentistry that implants are placed in the correct prosthodontically determined position. When the alveolar bone resorbs, it is often necessary to augment the bone to ensure that implants can be placed correctly and be completely embedded in bone. This module will describe a specific technique for bone augmentation known as guided bone regeneration or GBR.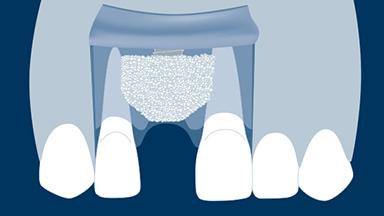 After completing this ITI Academy Module, you should be able to…
describe the biological principles of guided bone regeneration (GBR)
describe the development of GBR as a clinical technique
list the indications for GBR
Editor

Duration

35 min. + 10 min. for the Assessment

CPD/CME

0.75 hours

Purchase price

52 Academy Coins

Related assessment

Subtitles

English

Russian

Turkish

Japanese
Share this page
Download the QR code with a link to this page and use it in your presentations or share it on social media.
Download QR code