Surgical Planning and Procedures
Principles for the Management of Peri-Implant Defects
Patients requesting dental implant treatment frequently do so after an event that caused a tooth to be extracted or after a traumatic event leading to tooth loss. In most scenarios the alveolar bone will have undergone resorption at the site of the planned implant.
On the basis that implants should always be placed in an ideal three-dimensional prosthodontic position, peri-implant defects in the bone and soft tissues are often encountered when implants are placed. If these defects are minor, they can be treated at the time of implant placement with a high degree of predictability.
If the defects are large, a staged approach, in which the augmentation is performed first and the implant placed at a later time, is preferred.
This module will deal with the management of peri-implant hard and soft tissue defects resulting from post-extraction tissue changes.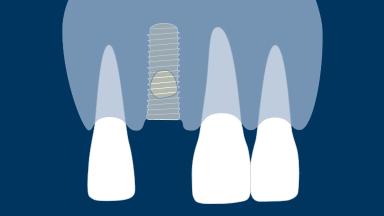 After completing this ITI Academy Module, you should be able to...
define the types of peri-implant hard and soft tissue defects
describe the criteria for simultaneous implant placement and bone augmentation
classify minor peri-implant hard and soft tissue defects
list the techniques for the treatment of minor hard and soft tissue defects around implants
list potential complications of minor peri-implant hard and soft tissue augmentation procedures
Editor

Duration

39 min. + 10 min. for the Assessment

CPD/CME

0.82 hours

Purchase price

57 Academy Coins

Related assessment

Subtitles

Turkish

English

Russian

Japanese
Share this page
Download the QR code with a link to this page and use it in your presentations or share it on social media.
Download QR code