Surgical Planning and Procedures
Princípios para o Manejo de Defeitos Peri-implantares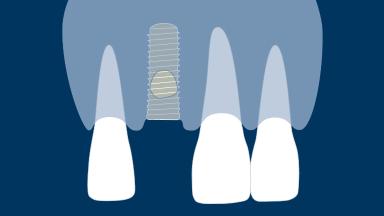 Depois de concluir este Módulo da Academia ITI, deverá ser capaz de...
definir os tipos de defeitos dos tecidos duros e moles peri-implantares

descrever os critérios para instalação simultânea de implantes e aumento ósseo

classificar pequenos defeitos peri-implantares de tecidos duros e moles

listar as técnicas para o tratamento de pequenos defeitos nos tecidos duros e moles ao redor dos implantes

listar potenciais complicações de procedimentos menores de aumento de tecidos moles e duros peri-implantares
Duration

39 min. + 10 min. for the Assessment

CPD/CME

0.82 hours

Purchase price

57 Academy Coins

Related assessment

Subtitles

Portuguese
Share this page
Download the QR code with a link to this page and use it in your presentations or share it on social media.
Download QR code