Structured Assessment and Treatment Planning
Introduction to Radiographic Assessment
Radiology is used in implant dentistry to supplement and confirm clinical findings.
Radiographs can assist with diagnosis and treatment planning and in reviewing restored dental implants at regular maintenance visits.
The 3D volume-rendered image shown here demonstrates the level of detail that can be obtained. However, all radiation - including x-rays - carries risk of tissue damage and long-term effects.
Therefore, where radiography is planned, consideration must be given to the risks associated with the investigation, which must be balanced against the expected benefits that will result.
Equally, consideration must be given to an assessment of the diagnostic and planning needs of the case.
Selection of the correct radiographic technique should be based on this balance between diagnostic needs and risk.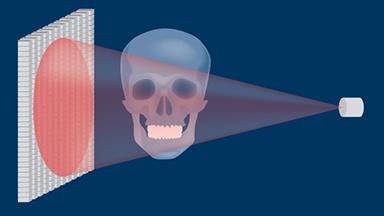 After completing this ITI Academy Module, you should be able to…
list the radiographic techniques that can be used to gather data to assist in the treatment planning and follow-up of dental implants
describe the radiation dose from various imaging techniques
discuss radiation protection principles to reduce levels of dose-associated risk
describe the indications for 2D and 3D radiographic investigations
Editor

Duration

26 min. + 10 min. for the Assessment

CPD/CME

0.6 hours

Purchase price

39 Academy Coins

Related assessment

Subtitles

English

Turkish

Japanese

Russian

German

Spanish
Share this page
Download the QR code with a link to this page and use it in your presentations or share it on social media.
Download QR code