Prosthodontic Planning and Procedures
Wie löst unsere Uni diesen Fall? Fallvorstellung der Universitäten Zürich, Genf, Bern und Basel
Vier Oberärzte der Unis Zürich, Genf, Bern und Basel stellen verschiedene Herangehensweisen von komplexen ästhetischen Fällen vor, basierend auf den jeweiligen Universitätskonzepten und -schwerpunkten. Dabei wird ein klinischer Leitfall (Patientin mit hoher Lachlinie, frontaler 2-Zahnlücke und Kammdefekt) immer wieder aufgegriffen und von den verschiedenen Blickwinkeln her beleuchtet. Allen gemeinsam ist das systematische Vorgehen, bestehend aus Hygienephase, parodontaler Vorbehandlung, Reevaluation, diagnostischer und chirurgischer Planung und anschliessender Therapie.
Entscheidend für das ästhetische Resultat ist die Frage, inwieweit der Kammdefekt regeneriert werden kann und die Papille wieder hergestellt werden kann bzw. prothetisch rekonstruiert werden muss. Die Ausbildung einer Papille wird auch durch die Wahl der Implantatanzahl beeinflusst (ein Implantat mit Extension versus zwei nebeneinanderstehende Implantate). Die Möglichkeiten zur Optimierung der Hart- und Weichgewebe werden mit Fallbeispielen demonstriert und deren Voraussagbarkeit diskutiert.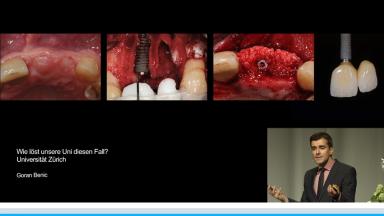 Nach dieser Präsentation sollten Sie:
in der Lage sein, die phasengerechte Planung eines ästhetisch komplexen Patientenfalls zu diskutieren
Bedingungen für eine voraussagbare Therapie nennen können
Duration

48 minutes

Source

ITI Kongress Schweiz, 2015

CPD/CME

0.8 hours

Purchase price

24 Academy Coins
Share this page
Download the QR code with a link to this page and use it in your presentations or share it on social media.
Download QR code