Treatment Outcomes and Continuing Care
Was bedeutet Erfolg in der Implantat-Zahnmedizin?
Dieser Vortrag beschäftigt sich mit den verschiedenen Möglichkeiten, Erfolg in der Implantologie zu beurteilen, und analysiert diese anhand der verfügbaren systematischen Übersichtsarbeiten. Dabei geht er besonders auch auf die Frage des Langzeiterfolges verschiedener Versorgungstypen im teilbezahnten Kiefer auf Basis aktueller Übersichtsarbeiten ein.
Außerdem wird die Entwicklung der Überlebensraten unterschiedlicher Versorgungen in den letzten Jahren mit den Daten älterer Jahre verglichen. Auf den Unterschied zwischen Überleben und Erfolg geht er am Beispiel der Periimplantitis ein. Die Rate der technischen Komplikationen wird anhand aktueller Übersichtsarbeiten beleuchtet. Abschließend werden praktische Tipps zum Erreichen des Langzeiterfolgs gegeben.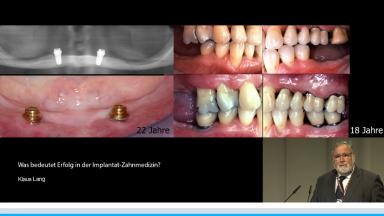 Nach dieser Vorlesung sollten Sie…
die Definition von Inkorporationsrate, Implantatüberlebensrate und Implantaterfolg kennen
Kenntnisse zu den Überlebensraten unterschiedlicher Rekonstruktionen erlangt haben
die Definition von Periimplantitis kennen
Kenntnisse zu den Raten unterschiedlicher technischer Komplikationen erworben haben
sich Wissen über Patientenzufriedenheit im Rahmen der Therapie angeeignet haben
Duration

37 minutes

Source

ITI Kongress Schweiz, 2015

CPD/CME

0.63 hours

Purchase price

19 Academy Coins
Share this page
Download the QR code with a link to this page and use it in your presentations or share it on social media.
Download QR code