Prosthodontic Planning and Procedures
Versorgung im zahnlosen Kiefer mit implantatgetragenen Suprakonstruktionen
Die Implantat-gestützte Versorgung des zahnlosen Oberkiefers stellt das behandelnde Team nicht selten vor große Herausforderungen. Essentiell für den Langzeiterfolg ist es, sich schon im Vorfeld im Sinne des sogenannten "Backwardplanning" über die Art der Versorgung und somit auch über die Anzahl der Implantate und die Implantatpositionen im Klaren zu sein. Insbesondere beim herausnehmbaren Zahnersatz kommen je nach biologischer bzw. prothetischer Ausgangsposition und auch Zielsetzung unterschiedliche Varianten (teleskopierend verankert, steggetragen, Locator-gestützt) zum Einsatz. Der Vortrag fokussiert auf die charakteristischen Vor- und Nachteile der einzelnen Versorgungsmodalitäten.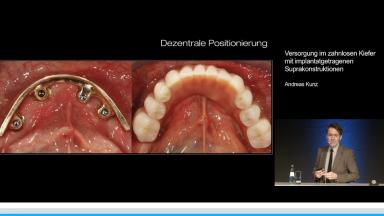 Nach dieser Vorlesung sollten Sie...
mit den Prinzipien des sog. "Backwardplanning" vertraut sein
die empfohlene Mindestanzahl an Implantaten für die unterschiedlichsten Versorgungsmodalitäten kennen
die charakteristischen Vor- und Nachteile von festsitzendem und den unterschiedlichen Varianten des herausnehmbaren Zahnersatzes (z.B. bzgl. des Hygienekonzeptes) erläutern können
die wesentlichen Grundzüge von teleskopierend verankertem, Steg-getragenem und Locator-gestütztem Zahnersatz inklusive charakteristischer Vor- und Nachteile benennen können
Duration

35 minutes

Source

ITI Congress Germany 2018

CPD/CME

0.6 hours

Purchase price

18 Academy Coins
Share this page
Download the QR code with a link to this page and use it in your presentations or share it on social media.
Download QR code