Structured Assessment and Treatment Planning
Vermeidung prothetischer Komplikationen
Der Vortrag bespricht verschiedene Faktoren, die zur Gesamtrisikobeurteilung einer Implantatversorgung beitragen. Dabei werden Aspekte wie chirugisches, ästhetisches und ökonomisches Risiko, aber auch Behandler, Patient, prothetische Komponenten, Hersteller sowie Zahntechnik als potentielle Risikofaktoren mit diversen klinischen Fallbeispielen übersichtlich illustriert und erörtert.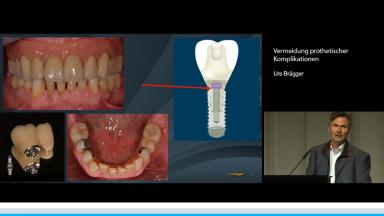 Im Anschluss an diesen Vortrag sollten Sie:
die verschiedenen Faktoren kennen, die zu prothetischen Komplikationen von Implantatversorgungen beitragen können
solche Komplikationen erkennen können
durch korrekte Risikoanalyse prothetische Komplikationen und Nachsorge von Implantatversorgungen minimieren können
Duration

35 minutes

Source

ITI Kongress Schweiz, 2015

CPD/CME

0.58 hours

Purchase price

18 Academy Coins
Share this page
Download the QR code with a link to this page and use it in your presentations or share it on social media.
Download QR code