Surgical Planning and Procedures
Verlässliche Konzepte für den Implantations- und Belastungszeitpunkt
Prof. Buser berichtet in dieser Präsentation, die im Rahmen des Deutschen ITI Kongresses in Dresden im Jahr 2015 gehalten wurde. Langzeiterfolg von Implantaten über 20 Jahre, über den optimalen Implantation und Belastungszeitpunkt. Zunächst erläutert er die gewandelte Altersstruktur der Implantatpatienten und definiert die primären und sekundären Behandlungsziele in der Implantologie. Ein zentraler Aspekt der Präsentation stellt die Wahl des idealen Implantationszeitpunktes nach Extraktion mit Focus auf die verzögerte Sofortimplantation in Verbindung mit GBR dar, die auch mit einem informativen OP Video unterlegt ist. Er setzt sich kritisch mit dem Konzept der Sofortimplantologie auseinander und stellt die Ergebnisse der letzten ITI Konsensuskonferenz dar. Er definiert die Belastungszeitpunkte auf der Basis der ITI Konsensuskonferenz. In einem zweiten Schritt wird die Planung der Belastung in den Zusammenhang mit der Verlaufsbeurteilung der Implantatstabilität mittels ISQ Messung gestellt. Am Beispiel des Sinuslift mit primärer Implantation wird abschließend das Konzept eines flexiblen Belastungszeitpunktes auf Basis der ISQ Messung diskutiert.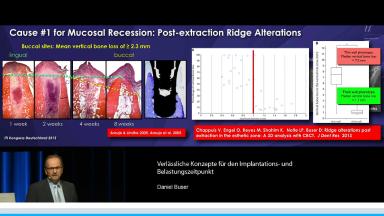 Nach dieser Vorlesung sollten Sie…
die Veränderung der Altersstruktur in der Implantologie kennen
die Wahl des idealen Implantationszeitpunktes in der ästhetisch kritischen Zone verstehen
die GBR als Technik zur verzögerten Sofortimplantation in der Praxis anwenden können
die Belastungszeitpunkte auf Basis der ITI Konsensus Konferenz in der Praxis anwenden können
den Wert der ISQ Messung bei der Wahl des sinnvollen Belastungszeitpunktes kennen
Duration

50 minutes

Source

ITI Kongress Deutschland, 2015

CPD/CME

0.83 hours

Purchase price

25 Academy Coins
Share this page
Download the QR code with a link to this page and use it in your presentations or share it on social media.
Download QR code