Structured Assessment and Treatment Planning
Treatment Planning in Patients with Congenital Missing Teeth
This lecture is a brief but comprehensive discussion of the treatment alternatives for congenitally missing teeth, a condition affecting 7% to 8% of the population. The importance of a multidisciplinary approach and treatment planning at an early stage is stressed throughout the presentation. Key factors to be evaluated when deciding whether the space should be closed or kept open for prosthetic replacement are outlined. Dental implants are the most frequently chosen treatment when tooth replacement is desired. Considerations for implant placement are detailed, including space requirements, need for local bone augmentation, and timing of implant placement.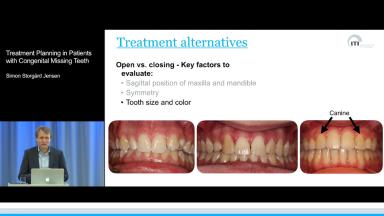 At the end of this Congress Lecture you should be able to…
describe treatment alternatives for patients with congenitally missing teeth
explain why and when orthodontic closure is the treatment of choice
discuss minimum space requirements for implant placement
describe preferred methods of ensuring arrested body growth before implant placement
Duration

30 minutes

Source

ITI Online Academy Recordings, Basel, Switzerland, 2017

CPD/CME

0.5 hours

Purchase price

15 Academy Coins
Share this page
Download the QR code with a link to this page and use it in your presentations or share it on social media.
Download QR code