Introduction to Implant Dentistry
Treating Elderly Implant Patients
Global demographics are moving towards an increasingly elderly population, who furthermore have a longer life expectancy due to advances in medical care. It is inevitable that dentists will need to provide care for greater numbers of elderly patients. This lecture discusses the complexity of medical care for geriatric patients, including multimorbidity, polypharmacy, mobility, frailty, and senescence, and how this complexity influences treatment decisions in both providing implants and in dealing with implant-retained prostheses provided at a younger age. Recall and maintenance in this group of patients is crucial to ensure continued benefit from our interventions until late in life. This lecture also describes the medical, surgical, and socioeconomic challenges of providing initial treatment, maintenance therapy, and revision treatment.Although the benefits of dental implants are well documented, the challenges of treating patients in this group require key considerations for the patient's present and future needs concerning both their general and oral health. This is particularly so with the onset of dependency and/or frailty, which may mandate simplification of implant prostheses when needed.Prospective treatment planning is also discussed as a way to avoid comprehensive changes of dental prostheses in later life, when diminishing neuroplasticity hinders adaptation.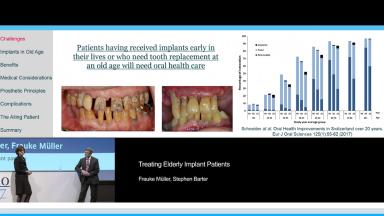 At the end of this Congress Lecture you should be able to…
describe the specific conditions and challenges practitioners encounter in treating geriatric patients with implants
recognize the need for a meticulous anamnesis and possible cooperation with other medical specialists prior to implant treatment of the elderly
discuss prosthetic principles for treating elderly patients
describe complications which occur more often in treating the geriatric population
Duration

47 minutes

Source

ITI World Symposium 2017

CPD/CME

0.8 hours

Purchase price

24 Academy Coins
Share this page
Download the QR code with a link to this page and use it in your presentations or share it on social media.
Download QR code