Surgical Planning and Procedures
Traumatic Dental Injury and Ankylosed Teeth in Relation to Dental Implants
Traumatic injuries of teeth are quite prevalent in children and young adolescents. Ankylosis after traumatic injuries occurs more frequently following avulsion and intrusion, and it results from local destruction or resorption of the tooth structure and replacement of the adjacent alveolar bone. The ankylosed tooth becomes integrated with alveolar bone with consequent infraocclusion and a higher gingival margin, as the neighboring teeth erupt normally. This lecture discusses treatment planning for ankylosed teeth, which is always multidisciplinary and should start as early as possible, i.e., as soon as the ankylosis is diagnosed. Management of ankylosed permanent teeth depends on the status of the ankylosed tooth, the degree of infraposition, and expected continuous growth. The objective is to minimize vertical hard and soft tissue deficiencies. Different techniques such as decoronation, sandwich osteotomy, and socket preservation to preserve alveolar bone prior to implant placement are presented.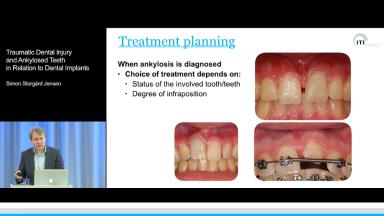 At the end of this Congress Lecture you should be able to…
recognize which dental trauma types carry a higher risk for ankylosis
describe different techniques for management of ankylosed permanent teeth
discuss the indication and rationale for using each of these techniques
Duration

19 minutes

Source

ITI Online Academy Recordings, Basel, Switzerland, 2017

CPD/CME

0.33 hours

Purchase price

10 Academy Coins
Share this page
Download the QR code with a link to this page and use it in your presentations or share it on social media.
Download QR code