Surgical Planning and Procedures
Tissue Level Implants in the Esthetic Zone – Prosthetic Solutions and Surgical Perspective: the Myth and Reality (Part II)
This lecture illustrates several very well-documented cases of tissue-level (one-piece) implants placed in the esthetic zone with long-term follow-up. The advantages of tissue-level over bone-level (two-piece) implants are thoroughly explained.
For stable long-term outcomes, the significance of placing the implants in the correct three-dimensional position and creating and maintaining a labial bone wall thickness greater than 2 mm by applying guided bone regeneration techniques is underlined. In this presentation, the author/speaker states that achieving absolute primary stability is less important with the use of implants that feature activated surfaces. The presenter advises against Type I (immediate) placement, even in cases with simultaneous grafting with a low-substitution material, to avoid increased osteoclastic activity generated by the extraction and the biologic necessity of bundle bone remodeling.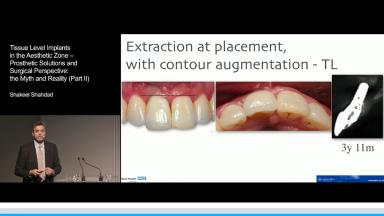 At the end of this Congress Lecture you should be able to…
recognize the importance of correct 3D placement of implants in the esthetic zone
recognize the necessity of performing contour augmentation simultaneously with implant placement in the anterior maxilla
describe the surgical technique of contour augmentation using particulated autogenous bone, low-substitution grafting material, and collagen membrane
recognize the risks associated with Type I immediate placement
understand that soft tissue grafting is less important than bone grafting in achieving satisfactory long-term outcomes
Duration

53 minutes

Source

ITI Congress Russia 2015

CPD/CME

0.9 hours

Purchase price

27 Academy Coins
Share this page
Download the QR code with a link to this page and use it in your presentations or share it on social media.
Download QR code