Structured Assessment and Treatment Planning
The Precision of CBCT
This lecture addresses the role of precision in CBCT imaging as currently used in dental and maxillofacial treatment. Use of 3D images is placed in the context of two aspects of precision: repeatability and reproducibility.
Digital dental and maxillofacial imaging in 2D and 3D are compared and contrasted, including the principles of obtaining each image type and the most common sources of errors in linear and volumetric measurements. This lecture also explains the relationship between greyscale values in CBCT images and the Hounsfield units of the anatomic structures being imaged.
A discussion of why precision in imaging is crucial in implant surgery concludes this lecture, with a focus on how imaging errors accumulate to affect the accuracy or precision of guided surgery.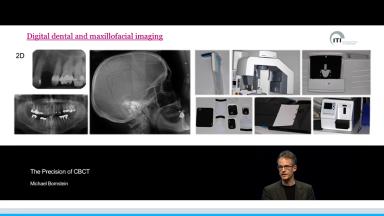 At the end of this Congress Lecture you should be able to...
define precision in regard to CBCT

describe key aspects of digital dental and maxillofacial imaging using CBCT

recognize the relationship between greyscale values and Hounsfield units

explain how accumulation of errors when applying 3D radiographic data sets can affect clinical practice, and guided surgery in particular
Duration

27 minutes

Source

ITI World Symposium 2014

CPD/CME

0.45 hours

Purchase price

14 Academy Coins
Share this page
Download the QR code with a link to this page and use it in your presentations or share it on social media.
Download QR code