Structured Assessment and Treatment Planning
The Decision-making Process: Bone Augmentation or Reduced Implant Dimensions?
Bone augmentation is an important tool towards achieving a favorable implant prognosis. Complex horizontal and vertical augmentations carry a risk of early and late biological complications. At the same time, a reduced implant diameter and implant length might allow the safe insertion of implants into local bone with less invasive or no augmentation. The risk of this approach could be more technical failures in the long term. The decision-making process presented in this lecture involves the patient perspective and discussion of the different alternatives. 3D diagnostics and virtual planning are also discussed; these tools allow bidirectional planning with respect to both the available bone volume and the prosthodontic restoration.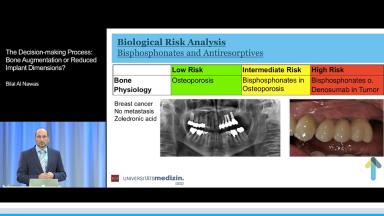 At the end of this congress lecture you should be able to…
understand the limits of bone augmentation in specific indications
know the clinical recommendations for choosing implant dimensions
understand the role of 3D planning in the decision-making process
Duration

10 minutes

Source

ITI Online Academy Recordings, Basel, Switzerland, 2017

CPD/CME

0.17 hours

Purchase price

5 Academy Coins
Share this page
Download the QR code with a link to this page and use it in your presentations or share it on social media.
Download QR code