Surgical Planning and Procedures
Techniques and Timing in Implant Surgery
Surgical procedures to place implants are a routine part of everyday work in most dental offices. The clinician has to choose among different options when it comes to flap access, drilling technique, timing of implant placement in relation to extraction, timing of the potential augmentation procedure and submerged versus non-submerged healing. These decisions are usually made depending on the dentist's preference and/or clinical ability and not on the clinical scenario, as it should be. The aim of this lecture is to describe the indications and critical aspects of most surgical variables with particular attention to soft tissue aspects, the choice of the interval between extraction and implant placement, and the timing of the augmentation procedure.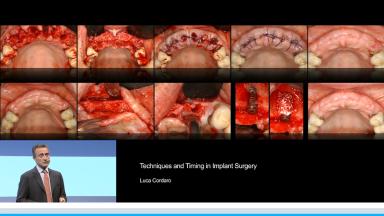 At the end of this Congress Lecture you should be able to…
describe the different implant placement protocols available
evaluate the risks and advantages of different protocols for the timing of implant placement in relation to tooth extraction
recognize the importance of preoperative planning for achieving the best possible treatment outcome while minimizing the risks of complications
Duration

31 minutes

Source

ITI World Symposium 2017

CPD/CME

0.53 hours

Purchase price

16 Academy Coins
Share this page
Download the QR code with a link to this page and use it in your presentations or share it on social media.
Download QR code