Structured Assessment and Treatment Planning
Short Implants, Narrow Diameter Implants, Tilted Implants: What Do We Know?
This lecture discusses minimally invasive treatment concepts in implant dentistry based on the findings of the 8th ITI Consensus Conference. Dr. Schiegnitz explains which patient groups may benefit from the use of short, narrow, or tilted implants and when. The classifications for short implants and narrow diameter implants from the 8th ITI Consensus Conference are presented. Furthermore, Dr. Schiegnitz discusses the indications, complication rates and types, as well as survival rates of short implants, narrow diameter implants and tilted implants based on systematic reviews and meta analyses of the current scientific body of evidence.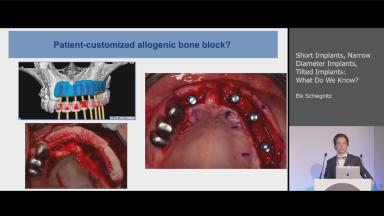 At the end of this Congress Lecture you should be able to…
recognize the importance and impact of pre-operative risk assessment on the decision-making process in regard to minimally invasive treatment concepts involving short, narrow diameter or tilted implants

discuss which patients benefit from minimally invasive treatment concepts with short, narrow diameter and tilted implants and why

recognize the types and impact of complications associated with minimally invasive treatment concepts compared to conventional treatment concepts

discuss the effect of minimally invasive treatment concepts on surgery time and treatment costs

describe patient-reported outcomes in regard to the use of short, narrow diameter and tilted implants
Duration

39 minutes

Source

ITI Annual Conference 2019 - Berlin, Germany

CPD/CME

0.63 hours

Purchase price

19 Academy Coins
Share this page
Download the QR code with a link to this page and use it in your presentations or share it on social media.
Download QR code