Prosthodontic Planning and Procedures
Schnittstelle Weichgewebe – Neue Konzepte zum prothetischen Weichgewebsmanagement und die Bedeutung für die Langzeitstabilität
Dr. Meisel zeigt die Bedeutung des Weichgewebsmanagements für die Langzeitstabilität im implantatprothetischen Workflow. Schwerpunkt des Vortrags sind die Implantatabutments, sowohl konfektionierte als auch individualisierte aus Metall oder Keramik. Er erläutert die 5 Abutmentbereiche und ihre Aufgaben und Richtwerte für die erfolgreiche Biointegration. Anhand von Fallbeispielen zeigt Dr. Meisel die mögliche Gestaltung der gewählten Implantatabutments zur Stabilisierung des Weichgewebes.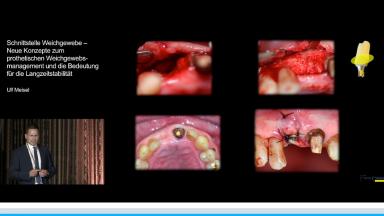 Nach diesem Vortrag sollten Sie…
die 5 Abutmentbereiche und ihre Aufgaben erklären können
wissen, was beim Zementieren auf Implantatabutments zu beachten ist
diskutieren können, warum der intraimplantäre Bereich insbesondere bei Passungenauigkeiten (Replika) nicht zu vernachlässigen ist
Duration

45 minutes

Source

ITI Congress Austria 2016

CPD/CME

0.77 hours

Purchase price

23 Academy Coins
Share this page
Download the QR code with a link to this page and use it in your presentations or share it on social media.
Download QR code