Prosthodontic Planning and Procedures
Removable Options for Partially Edentulous Elderly Patients
Charlotte Stilwell explains treatment-planning principles in the elderly population regarding partial removable dental prostheses (RDPs) in general as well as the combination of partial RDPs with implants. General partial RDP concepts include indications, prosthodontic advantages, and hygienic design and maintenance. Evidence is presented on the advantages and longevity of the shortened dental arch.
This lecture also gives an overview of implant-assisted partial RDPs, addressing support, retention, and esthetics in combination with tooth replacement, ridge preservation, and full-arch conversion. Unsplinted and splinted implant prosthodontic options for retention are presented. Finally, emphasis is placed on the importance of using implants as part of longer-term planning for the patient's dentition.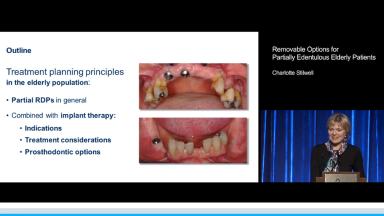 At the end of this Congress Lecture you should be able to…
discuss treatment planning for partial RDPs
describe factors affecting implant-assisted partial RDPs
outline prosthodontic options for implant-assisted partial RDP retention
Duration

24 minutes

Source

ITI Annual Conference 2015 - Istanbul, Turkey

CPD/CME

0.4 hours

Purchase price

12 Academy Coins
Share this page
Download the QR code with a link to this page and use it in your presentations or share it on social media.
Download QR code