Treatment Outcomes and Continuing Care
Reinigung und Dekontamination keimbesiedelter Implantatoberflächen bei Periimplantitistherapie
Diese Präsentation gibt einen Überblick zu den diversen Möglichkeiten der Reinigung und Dekontamination von keimbesiedelten Implantatoberflächen bei der Periimplantitistherapie. Dabei wird auf eigene in-vitro Studienresultate zu Kürretage, Pulverstrahleinsatz, Lasern (Er:YAG und Diode) sowie Ätzgel bei der Periimplantitistherapie eingegangen. Zudem werden die neueren Verfahren, photodynamische und auch photothermische Therapie (PDT und PTT), zur Periimplantitisbehandlung vorgestellt und deren Gemeinsamkeiten sowie Unterschiede aufgezeigt.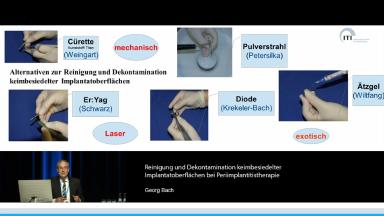 Am Ende dieser Präsentation sollten sie:
die wichtigsten Verfahren zur Reinigung und Dekontamination von Implantatoberflächen bei der Periimplantitistherapie kennen
wissen, dass zwar alle Verfahren einen reinigenden Effekt zeigen, aber vor allem die Dekontamination bedingt durch die Defektmorphologie große Unterschiede zeigt
die Unterschiede in der Funktionsweise der PDT und PTT kennen
wissen, dass rote und grüne Sensitizer bei der PDT / PTT unterschiedliche Wirkungen und Effekte haben
Duration

10 minutes

Source

ITI Kongress Deutschland, 2015

CPD/CME

0.17 hours

Purchase price

5 Academy Coins
Share this page
Download the QR code with a link to this page and use it in your presentations or share it on social media.
Download QR code