Treatment Outcomes and Continuing Care
Rehabilitation in der ästhetischen Zone mit vollkeramischen Implantaten – Ergebnisse der klinischen Ein-Jahres-Studie
Diese Präsentation zeigt die Resultate einer klinischen Studie über ein Jahr bei vollkeramischen Implantaten in der Oberkieferfrontregion und erklärt die ästhetischen Herausforderungen bei Titanimplantaten im einsehbaren Bereich des anterioren Oberkiefers.
Anhand der vorliegenden retrospektiven Untersuchung an 87 Patienten werden die festgestellten Überlebens- und Erfolgsraten gezeigt. Außerdem wird der Effekt der Gewebevermehrung bei Vollkeramikimplantaten und die daraus resultierenden Werte für die Papillen bei unterschiedlichen Anwendungsszenarien beschrieben.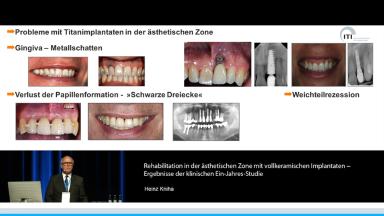 Am Ende dieser Präsentation sollten sie:
erklären können, wo bei Titanimplantaten potentiell Probleme entstehen können
benennen können, was für eine ideale Papillenformation entscheidend ist
die Überlebens- und Erfolgsraten von vollkeramischen Implantaten nach einem Jahr kennen
den Effekt der Gewebevermehrung bei vollkeramischen Implantaten und dessen Folgen beschreiben können
Duration

20 minutes

Source

ITI Kongress Deutschland, 2015

CPD/CME

0.33 hours

Purchase price

10 Academy Coins
Share this page
Download the QR code with a link to this page and use it in your presentations or share it on social media.
Download QR code