Prosthodontic Planning and Procedures
Prosthetic Decisions: Where, How Many and Which Materials?
Implant dentistry began with the notion that dental implants should replace the roots of natural teeth. This was frequently interpreted as a one for one replacement whereby one implant would be used to replace one tooth.
Over time this ratio was rejected. Today there is strong evidence to suggest that the minimum number of implants necessary to retain a dental prosthesis may be appreciably less than what was previously thought.
When considering fixed dental prostheses in the mandible there is strong evidence to suggest that three implants could be used with a high level of predictability. In the maxilla four implants might be a more appropriate minimum number.
Although it is appealing to establish a set of minimum numbers, clinicians must be constantly be aware that in some situations minimum numbers are clearly inappropriate.
Likewise it is incumbent upon the clinician to understand that the materials that are considered for the permanent prosthesis must be matched to the number of implants and the associated inter-implant spans.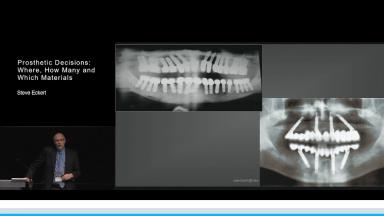 Duration

40 minutes

Source

ITI Congress Southern Africa 2013

CPD/CME

0.66 hours

Purchase price

20 Academy Coins
Share this page
Download the QR code with a link to this page and use it in your presentations or share it on social media.
Download QR code