Introduction to Implant Dentistry
Profondità di inserimento degli impianti: problematiche biologiche ed estetiche
In questa presentazione vengono descritti gli effetti biologici e clinici di un incorretto posizionamento degli impianti. Il Dott. Enzo Vaia, dopo l'introduzione sulle caratteristiche bio-meccaniche delle superfici degli impianti e sui principi della chirurgia protesicamente guidata, affronta il tema del posizionamento tri-dimensionale dell'impianto con particolare rifermento alla profondità di inserimento. E'documentato in modo dettagliato come la posizione in senso corono-apicale sia un fattore determinante nel risultato di una riabilitazione implanto-protesica. L'argomento è presentato in modo chiaro ed esauriente con frequente menzione ai principi della Parodontologia per descrivere le problematiche biologiche inerenti agli impianti. Particolare attenzione è rivolta alla dimensione biologica peri-implantare come fattore chiave nel successo biologico, funzionale ed estetico a lungo termine.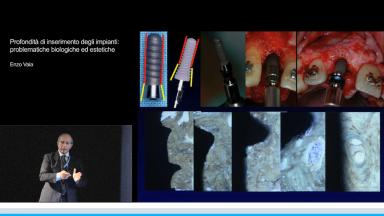 Alla fine di questa presentazione dovresti
essere in grado di descrivere l'attacco dei tessuti mucosi peri-implantari
aver compreso il concetto di dimensione biologica peri-implantare

saper riconoscere le problematiche biologiche e cliniche derivanti da un inserimento profondo dell'impianto

poter prevedere gli effetti sui tessuti duri e molli del posizionamento corono-apicale di un impianto
Duration

50 minutes

Source

ITI Congresso Italia 2013

CPD/CME

0.83 hours

Purchase price

25 Academy Coins
Share this page
Download the QR code with a link to this page and use it in your presentations or share it on social media.
Download QR code