Structured Assessment and Treatment Planning
Planificación del Paciente Periodontal
La patología periodontal es un hallazgo muy común en nuestras consultas. Además constituye uno de los factores de riesgo más importantes en el tratamiento implantológico por motivos tan diferentes como son los estéticos, quirúrgicos, biológicos, biomecánicos y hasta filosóficos si tenemos en cuenta el dilema que a veces se nos plantea en la clínica sobre extraer o no extraer y cuándo hacerlo.
En esta conferencia, el Dr. Rodrigo presta especial atención a todos los aspectos de riesgo englobados en el manejo del paciente periodontal en tratamiento con implantes, efectuando una exhaustiva revisión de la evidencia existente y con abundante iconografía. Se revisan factores de riesgo tales como el biológico, incluyendo tanto la genética como la microbiología pasando por el diseño personalizado de la prótesis, el riesgo estético y las limitaciones de nuestro tratamiento respecto a las expectativas de los pacientes y finalmente el riesgo quirúrgico o como simplificar nuestros procedimientos en estos pacientes de alto riesgo, mediante el empleo de implantes cortos, estrechos, angulados e inmediatos.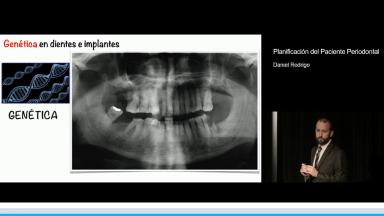 Al finalizar esta presentación el clinic...
debe conocer la importancia de la planificación del tratamiento con implantes en pacientes con enfermedad periodontal
ser consciente de los requerimientos estéticos del paciente periodontal y no sólo de los nuestros
simplificar en lo posible los procedimientos quirúrgicos, empleando técnicas sencillas y predecibles. -

Debe incluir al paciente en un estricto programa de mantenimiento periodontal individualizado o verse inevitablemente abocado al fracaso
no olvidar la eficacia a largo plazo que los tratamientos periodontales convencionales han demostrado en el mantenimiento de los dientes
Duration

69 minutes

Source

Congreso Ibérico ITI 2015

CPD/CME

1.12 hours

Purchase price

35 Academy Coins
Share this page
Download the QR code with a link to this page and use it in your presentations or share it on social media.
Download QR code