Prosthodontic Planning and Procedures
Overdentures – Por Que Nos Esquecemos Delas?
Nesta aula é feita uma revisão sobre os princípios das próteses totais e suas indicações. São apresentadas a forma convencional e com o uso de CAD-CAM para moldagem de pacientes que tem necessidade de reabilitação total. São também apresentados os vários tipos de retentores disponíveis. As indicações para uso da overdenture, a avaliação clínica para identificar o paciente com características clínicas e sistêmicas que interferem no processo de decisão de tratamento para uso de prótese sobre implante fixa ou removível. São apresentadas vantagens e desvantagens no uso das próteses protocolos e próteses overdentures.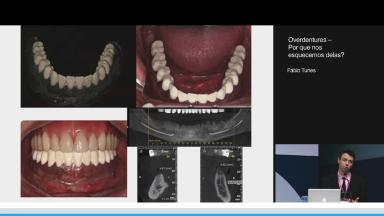 Ao final desta aula você será capaz de…
descrever as indicações para overdentures
conhecer alternativas de tratamento com overdentures
identificar os pacientes com indicações clínicas para uso de overdentures
Duration

52 minutes

Source

ITI Scientific Session Brazil 2016

CPD/CME

0.87 hours

Purchase price

26 Academy Coins
Share this page
Download the QR code with a link to this page and use it in your presentations or share it on social media.
Download QR code