Prosthodontic Planning and Procedures
Neuversorgung auf langjährig bestehenden Implantaten
Diese Präsentation zeigt anhand von Patientenfällen verschiedene Gründe für die Erneuerung von vorhandenem implantatgetragenem Zahnersatz auf. Neben Fehlern bei der Abutmentwahl und der Planung und den veränderten funktionellen und ästhetischen Ansprüchen der Patienten/-innen, spielt natürlich auch der Funktionsverlust eine große Rolle. Auch auf modulierende Faktoren wie das Alter der Versorgungen, Alter der Patienten/-innen, Hygienefähigkeit und Patientenwünsche wird eingegangen. Die prothetische Backward-Planung in ihren funktionellen Dimensionen wird dargestellt und für die Neuversorgungen werden konventionelle analoge Produktionsverfahren den modernen digitalen Möglichkeiten gegenübergestellt.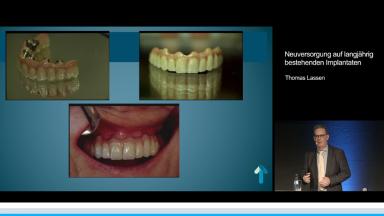 Nach dieser Vorlesung sollten Sie...
verschiedene Gründe für die Neuversorgung auf langjährig bestehenden Implantaten erläutern können
Probleme bei der Neuanfertigung von implantatgetragenen Versorgungen abschätzen können
Ideen für alternative Versorgungskonzepte auf Altimplantaten haben
Informationsmöglichkeiten zur Implantatidentifikation kennen
Duration

38 minutes

Source

ITI Congress Germany 2018

CPD/CME

0.63 hours

Purchase price

19 Academy Coins
Share this page
Download the QR code with a link to this page and use it in your presentations or share it on social media.
Download QR code