Introduction to Implant Dentistry
Mucosa queratinizada e doença peri-implantar
Nesta apresentação são demosntrados os conceitos quanto a importância de mucosa ceratinizada ao redor de implantes e sua relação com saúde ou doença periimplantar. Resultados de pesquisas nesse campo mostram que a presença de mucosa ceratinizada tende a diminuir o acúmulo de placa e o desenvolvimento de doenças periimplantares, tais como mucosite e periimplantite. Quando se tem pouca quantidade ou ausência, sugere-se a necessidade de procedimentos para aumentar ou criar mucosa ceratinizada para uma melhor estabilidade tecidual ao longo dos anos.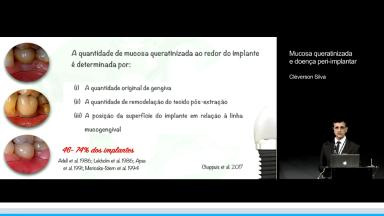 Ao final desta aula você deve ser capaz de…
explicar a importância de mucosa ceratinizada para saúde periimplantar
identificar os fatores de risco relacionados a ausência de mucosa ceratinizada
discutir a importância de procedimentos cirúrgicos para criar ou aumentar mucosa ceratinizada
Duration

26 minutes

Source

ITI Congress Brazil 2018

CPD/CME

0.43 hours

Purchase price

13 Academy Coins
Share this page
Download the QR code with a link to this page and use it in your presentations or share it on social media.
Download QR code