Prosthodontic Planning and Procedures
Minimizing Excess Cement and Maximizing Peri-implant Soft Tissue Health
This lecture discusses the effect of excess cement on the peri-implant soft tissue. Discrepancies around the implant margin have also been shown to be detrimental to the peri-implant tissue. Excess retained cement results in significant inflammation and bone loss around restored dental implants. It can be difficult to clean the subgingival implant margin, and this may cause further damage to the titanium implant-abutment surface. There are various cementation techniques and restorative options available to reduce or eliminate excess cement. Options will be presented to minimize excess cement as well as to maximize peri-implant soft tissue health.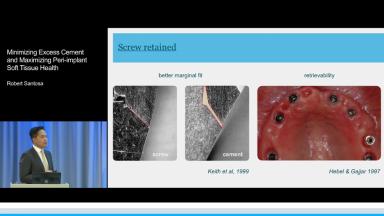 At the end of this Congress Lecture you should be able to…
understand the key factors that affect the health of peri-implant soft tissue
discuss the problems of excess cement to the surrounding health of peri-implant soft tissue
describe clinical strategies to minimize or prevent cement peri-implantitis
Duration

13 minutes

Source

ITI Online Academy Recordings, Basel, Switzerland, 2017

CPD/CME

0.23 hours

Purchase price

7 Academy Coins
Share this page
Download the QR code with a link to this page and use it in your presentations or share it on social media.
Download QR code